show less
show more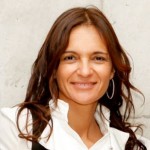 @llavecreativa
Hi Marko, thank you very much for accepted my request I really like the site and your contributions My expertise is in creativity, innovation, entrepreneurship and education I work with children, university students, teachers and executives and LSP is one of the tools that I apply In November'll do the first workshop of LPS in Chile with a […]
View
Profile Details
Name

Claudia Gwynn
Who are you?

Directora y Fundadora LLave Creativa. Coach Creativa. Consultora. LSP Trained LEGO® Serious Play® Facilitator. Master en Coahing y Gestión Estratégica del cambio. Directora de proyectos y de gestión en Programas de desarrollo de habilidades creativas, de liderazgo, innovacion, emprendimiento y trabajo en equipo para docentes, estudiantes primarios, secundarios, universitarios de pre y post grado y ejecutivos de primera línea organizacional, con herramientas innovadoras en la relatoría, incorporando actividades y disciplinas creativas y movilizando el contacto con las competencias individuales y de equipos.
Facilitation languages

spanish
Contact info
If yes - who, where and when trained you?

My experience is in education, training of teachers in schools and universities My work with children and LSP My work in companies and organizations My creativity and my love of learning.