show less
show more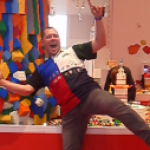 @passenier
Profile 100% complete
Just wondering what other uses LEGO Serious Play could be used for…
View
Profile Details
Name

Arjan Passenier MSc
Who are you and why do you want to become a member of SeriousPlayPro community?

Consultant with more than 15 years experience with profit and non-profit organizations. Proud father of two beautiful kids (boy and a girl). Always looking for new challenges, adventures or a nice conversation!
Facilitation languages

Dutch, English
Contact info

Terbregselaan 2
3055 RG Rotterdam
The Netherlands

Cellphone: +31(0)6 27 834 007
Email: arjan@crucialplay.nl

Website: http://www.crucialplay.nl

LinkedIn
Twitter URL
Facebook.
Have you been trained in LEGO SERIOUS PLAY?
If yes - who, where and when trained you?

Eindhoven, the Netherlands, 25-28 january 2016 by Michel Cloosterman