show less
show more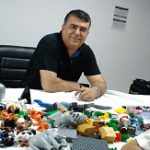 @paraggadhia
Hi, I would be happy if anyone from the community can share details related to Project Management and LSP. Pls. email me at
paraggadhia@gmail.com
View
Profile Details
Name

PARAG GADHIA
Who are you and why do you want to become a member of SeriousPlayPro community?

I have more than two & half decades of rich and varied experience in Trainings, Facilitation, Mentoring & Coaching, Leadership Development, Team Synchronization, Project & Process Management, Enhancing Client Relationships, Managing Inter-Departmental Processes & Conflicts, Getting Work Done, and Managing Teams.

Having tasted a successful professional career of around 16 years in fortune 500 companies and worked globally, I wanted to challenge myself of moving out of comfort zone and move on a new territory as a trainer and entrepreneur.

My approach is to harness the collective intelligence that sits within the individual & group and move to the next level.

Being instrumental in Transformation of individuals, teams & organization for betterment drives me and motivates me to be into the field of Human Capital Development. I use facilitation and coaching approach in my training to make it more result oriented and effective.

I am based in Mumbai, India.

 I was the visiting faculty at various business schools in Mumbai, India.

I was actively associated as Management Committee member with International Coaching Federation, Mumbai Chapter.

I was the Master Coach for TATA Strive.
Facilitation languages

ENGLISH
Contact info

Email: paraggadhia@gmail.com
http://www.paraggadhia.com

WhatsApp – +91-7021049148 (India)
Facebook.
Have you been trained in LEGO SERIOUS PLAY?
If yes - who, where and when trained you?

Mumbai, Nov 2014, Per Kristiansen