show less
show more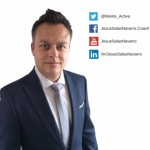 @jesussalasnavarro
@irene Gracias por agregarme Irene. Recibe saludos desde Leon Gto Mexico
View
Profile Details
Name

Jesus Salas
Who are you and why do you want to become a member of SeriousPlayPro community?

Coach, facilitator and Keynote speaker

Formation and studies:

International commerce degree.
Certified Life & Executive Coach.
Neurolingüístic programming Diploma.
Emotional intelligence Diploma.
Emotional Freedom Techniques (EFT Tapping) .
The Silva method.
Hipnolingüístic.
Body language.
Facilitation languages

Spanish (First) English (Second)
Contact info

menteactivahoy@gmail.com
@JesusSalasCoach
Have you been trained in LEGO SERIOUS PLAY?
If yes - who, where and when trained you?

Facilitador trained y Per Kristiansen