show less
show more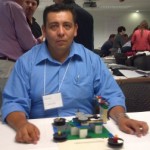 @jccampos
We started with 25 workshops in Mazatlan Sinaloa Mexico , on developing entrepreneurial skills using Lego Serious Play . Each workshop has a duration of 16 hours. In addition to the 100 workshops that gave the year before , we are reaching the 1000 workshops !! Thank God for this opportunity !!! by Robert Rasmussen , Lucio Margulis, Rosalinda […]
View
Profile Details
Name

Juan Carlos Campos
Who are you and why do you want to become a member of SeriousPlayPro community?

Director en Espacio Empresarial B.C.S.
LEGO® SERIOUS PLAY® facilitator.
Member of the National System Consultants Ministry of Economy.
Certified Facilitator of Harvard University Global Systems Tools ™
SME-JICA Consultant.
Certified to the standards of competence:
The impartation of training courses.
Collection of enterprise information
Evaluation of capabilities of the candidates.
Facilitation languages

español/ingles
Have you been trained in LEGO SERIOUS PLAY?
If yes - who, where and when trained you?

Certificado en la ciudad de México por Robert Rasmussen y Lucio Margulis.Programa de facilitadores México Emprende, del 29 de septiembre al 2 de octubre del 2012avalado por la Secretaria de Economía.