SERIOUSWORK certified LEGO SERIOUS PLAY Online facilitator training – June 2021
June 2 @ 9:00 am

-

June 3 @ 5:30 pm

£1300.00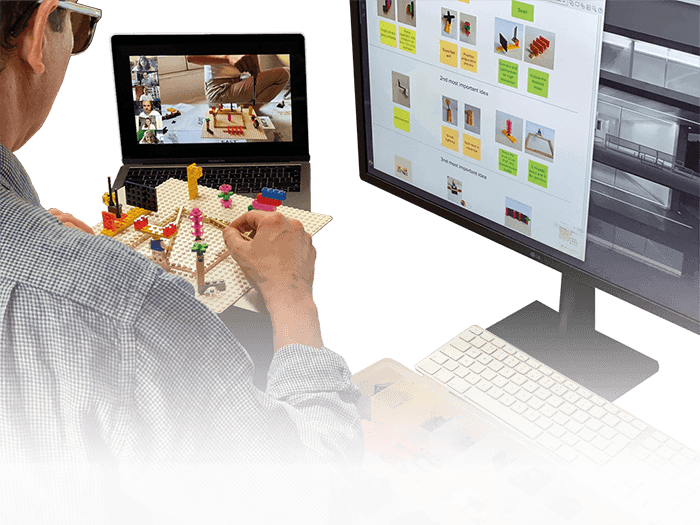 ONLINE LEGO® Serious Play® – facilitation superpowers beyond traditional LSP
Time and Date: 02. June 2021 – 03. June 2021; UTC+1 with SEAN in English
Learn how to facilitate LEGO Serious Play Online with SERIOUSWORK – the pioneers who devised this unique upgrade to the method. Deliver workshop outcomes with zero carbon travel costs and use our innovations to allow remote groups to co-create shared ideas with LEGO bricks.
This instructor-led training teaches so much more than LEGO Serious Play. It gives you additional facilitation skills, real practise and the confidence to work at a whole new level. This training is for you if your goal is to deliver gold standard workshops.
You will learn…
+ how to facilitate the LEGO® SERIOUS PLAY® method Online
+ Online shared model building and skills build
+ new Online techniques including how to be the 'Magic-hands©'
+ how to design and prepare workshop sessions
+ in small groups of 6 – which means YOU will facilitate. You will learn by doing
You will receive…
+ a huge sense of confidence – 14 hours of practise-based learning means you will leave our training having already facilitated your first session.
+ a wealth of experience – your training will be delivered by industry leading facilitators with proven track records in delivery
+ a breadth of knowledge – you will receive downloads of the 3 books we have written on the LEGO® SERIOUS PLAY® methodology
+ instant friends – lifetime access to our Slack community of over 500 trained LEGO® SERIOUS PLAY® facilitators, materials and assets
+ proof of your brilliance – a certificate displaying that you are a certified LEGO® SERIOUS PLAY® facilitator
+ everything you need from A-Z – all course materials will be sent to you in advance of the training
+ preferential treatment – you will always be the first to hear about new products and innovations, and as a SERIOUSWORK graduate you will always benefit from special discounts
Why train with SERIOUSWORK?
First and foremost we are practitioners who teach. Sean Blair, our Master Trainer is an award winning facilitator with over 30 years experience supporting organisations such as HSBC, Google, Cisco, Pfizer, Coca-Cola (and many more!)to innovate, learn and grow. He is an International Association of Facilitators (IAF) Certified™ Professional Facilitator and he has won an IAF "Facilitation Impact Award".
He designed the SERIOUSWORK method of LEGO® SERIOUS PLAY® facilitation training, so you can be sure that you are getting trained by an experienced practitioner of both LEGO® SERIOUS PLAY® and facilitation.
Our position is further strengthened with 3 books, written by Sean, on the LEGO® SERIOUS PLAY® method, the most recent of which is 'How to facilitate the LEGO® SERIOUS PLAY® Method ONLINE'. Not only is the method COVID-19 safe, but the online techniques can also be used in face-to-face settings. Online saves the carbon cost of travel and creates a better record of a group's progress and outputs than most traditional LEGO® SERIOUS PLAY® workshops.
We believe that we offer the best LEGO® SERIOUS PLAY® training in the world. Don't take our word for it though! See what some of our graduates say about our training and how they have used it here.
Our 2 Day Online course costs £1300 (plus VAT if applicable).
Each course will have a maximum of 6 people. To reserve your spot please go to our Shop select your date and pay for your place.
UK classes run from 9:00 to 17:30 both days and will be run in English, from London, which is in time zone UTC +1 in summer and GMT in Winter.
For further information please contact us at Hi@serious.global