June 16, 2020 in Serious Play Discussion
It's come about so quickly.
Just a few short weeks ago, Michael, Ben and I were talking about #legoseriousplay and we came up with the crazy idea of putting on a free, virtual event that would bring #LSP facilitators and those interested in it together for a few hours, share ideas, learn from each other, and simply be generous to each other.
Well, that time is almost here, and I'm delighted to say you can now sign-up for the conversations you want to take part in. Please do take a moment to watch the videos, and then based on that select which conversations are of interest to you.
You can attend a maximum of three conversations in the time, but if there's only one 'conversation host' that you really want to speak with, then just sign up for that one.
We've got a great line-up of speakers covering a wide range of topics:
Emanuele Ciccarelli will be sharing his thoughts about the hero's journey.
Werner Puchert will be talking about LSP and Design.
Holly Henderson on how she's using LSP in lots of different ways in education.
Sean Blair will be sharing his insights on how to do a shared build online, and
Joel Birch on complex systems in education.
I'm also delighted to say, that you'll also get the opportunity to hear from Marko Rillo and David Gauntlett, who will share their insights on creativity, open source and, of course, #legoseriousplay
Please remember to send your email once you've selected the conversations you want to attend (it'll make sense once you've read the instructions), and here's the link to sign-up: https://www.lspconnect.events/videos/
Ben, Michael and I look forward to seeing you next week! And remember, keep being generous…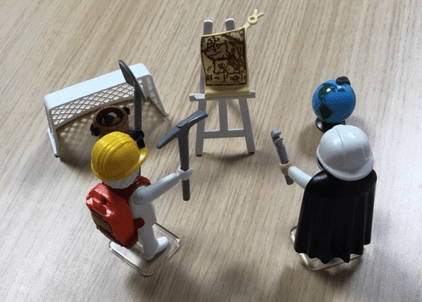 April 18, 2019 in Serious Play Case Studies
I facilitated my first session with #PLAYMOBILpro last week at IBM. I use the word 'session' intentionally, rather than workshop. And I think in hindsight I somewhat stretch the boundaries of how you might define the word 'facilitate'. Perhaps 'allowed to happen with some loose signposts along the way' might be closer to the mark…
Read also: First look at Playmobil Pro kit. Find out: what is included in the Playmobil Pro package?
---
The session kicked off day three of the workshop, and I had to come up with a 20 minute activity which required the participants to reflect on and share their key learnings from the first two days of the workshop. The workshop up to that point had largely been a mix of plenary, role play, problem-solving and group discussion. I thought doing something like PLAYMOBIL®pro. would expose them to something completely different, requiring a very different way of thinking, much more tactile or 'kinaesthetic', in order to create shared meaning.
I asked each participant to individually share with their table colleagues (there were four tables, 19 people in total) what had resonated with them over the last two days. They then needed to agree as a table group, 2 – 3 key learnings in total, which they would build using PLAYMOBIL®. Once they had built their 'model' they would create a story which they could then share with the rest of the table groups.
In terms of timing, I gave each table 5 minutes to individually share their key learnings, 3 minutes to agree their 2 – 3 key learnings for their table, and 7 minutes to build their PLAYMOBIL® 'model' and come up with the story for it. Each group then had 1 minute or so to tell the story of their model to the other three tables.
I had no idea whether 7 minutes was too long or short to build their PLAYMOBIL® model; I think people adapt to the time they are given anyway, so whether you give them 15 minutes or nine minutes, they would have built something and come up with some kind of makeshift story for it.
Of the four tables, three used the PLAYMOBIL® characters, props and costumes to represent different concepts, while one group used it in a very literal sense ie. they built a model of an interview they did as part of a particular activity.
The only set-up I did was to put the three open boxes (characters, costumes and props) on a table, with four groups of three figures in front of them ie. each group could only use a maximum number of three figures, but beyond that could use any of the other characters, costumes and props in their model.
I gave no instruction or guidance how they could use the contents of each box, apart from saying that they should try to be as creative as they can be in how they interpreted the figures, costumes and props from each box, and that they needed to share everything.
What interested me was how the groups were going to interpret the figures, costumes and props: would they use them to represent concepts and ideas, or would they use them in a very literal sense.
And in fact, there was only one group of the four that used the PLAYMOBIL® in a very literal sense to create an interview scene. Even then, however, there was a mix of the literal (the interview scene with people sitting in office chairs), and the metaphorical or figurative. Some figures brandished swords and medieval axes representing those characters that they perceived as being somewhat intimidating.
The little baby represented goodness and innocence
The dog in this instance represented cynicism and was very much a threat to the status quo
The snake had very negative connotations, and was also perceived as a lurking threat, ready to destabilise what was interpreted as the 'desired' state
The big yellow hammer or mallet was also given negative connotations, and seen as some kind of threat, while the shield was there to protect
The octopus took on the meaning of something that had multiple uses or functions. The fact that it was in its most literal and visual sense an 'octopus' became irrelevant as meaning was layered on top
Groups of people of different sizes represented the idea of collaboration and co-operation
The crown was used to denote a leader, CEO or experience. This could have both positive and negative connotations depending on the context being described
The skateboard was used to denote the ability to escape
There was a great level of conversation amongst each group and lots of smiling! There was lots of trying out and experimenting, iterating and adding new layers of meaning, telling and retelling the stories of the models. The stories being told never really felt as if they had an ending. They simply came to a pause at the moment in time, ready for more meaning to be added or taken away; just as easily as adding a cape or a jester's hat to a figure…
In terms of improvements (although I feel hesitant in using the word 'improvement'), the biggest one for me so far would be the addition of baseplates to put the individual elements of a model on, so that it is easier to move around in tact, rather than piece by piece. A variety of baseplate sizes would be good as well, allowing for smaller individual models and larger shared ones.
The need for a PLAYMOBIL®pro. lexicon to help participants speak the same language ie. 'model' to refer to all the individual elements put together when a participant(s) builds their response to the challenge being set by the facilitator. This is, however, something I think that will organically evolve over time.
Perhaps some kind of glossary that helps participants to understand the breadth of meaning a costume or prop might have ie. crown = king, leader, CEO, ruler ; experience ; monarchy, state ; despot ; false glory ; power ; victory, triumph, winner ; immortality…
What has been interesting for me so far, as well, has been to try to let PLAYMOBIL®pro. carve out its own space, rather than try to impose my own thinking on it, particularly in terms of applying concepts and terminology from LEGO® SERIOUS PLAY® (LSP) or even Design Thinking. However, in my mind there are definitely some aspects which could be borrowed and adapted for use in a formal workshop. If we take a look at the idea of the Skills Build for example from LSP.
The Skills Build comes at the beginning of the workshop and helps to level set all participants through a series of short activities, so that they are fully prepared when the main workshop gets underway, and get the most out of it. My sense is that a PLAYMOBIL®pro. workshop would also benefit from such an approach. This would have the dual function of helping participants who have experience of PLAYMOBIL® going beyond their known experience from childhood perhaps, and those who have no experience helping them, or giving them the permission, to understand how far they can push their own thinking and creativity. This would help participants understand how the figures, props and costumes can be used, whether literally or as metaphors to represent ideas and concepts. Furthermore, the Skills Build also helps to create a safe environment in which the rules, approach or methodology are understood and established. This is the time when scepticism at a new or seemingly 'silly' tool such as LEGO® or PLAYMOBIL® can be addressed and hopefully overcome through some initial warm-up activities. This is a time when people can practice speaking aloud and sharing their thoughts and opinions with others, without necessarily realising it. This is a time when everyone gets a chance to build, create and share. It is a time when democracy of speech and equality of views and opinions is established, regardless of differences in hierarchy or experience.
There is a potential richness to PLAYMOBIL®pro. also that needs to be unlocked and discovered, where minds need to be expanded to understand that a figure with a crown can represent – leader, king/queen, CEO, headstrong, confidence, arrogance…, while an upside down crown may denote – despot, oligarch, dictator, evil, failed potential, vulnerability, weak leadership…, or even extended to encompass the idea of quirkiness or craziness in a leader (seen as a positive rather than a negative). A figure can be more than just a figure, but can also become a metaphor. The Skills Build also helps to do this.
My sense is that these types of additions will organically evolve over time based on common practice amongst facilitators. Will PLAYMOBIL®pro. evolve to such a degree that there is a set methodology as with LEGO® SERIOUS PLAY®, I'm not sure. Does it matter? On one level, no. But on another, yes. It matters, because these types of 'mechanics' might help to make a PLAYMOBIL®pro. workshop (or 'intervention', when other approaches haven't worked) more effective and productive for the participants, more fun and creative, more engaging. And sometimes, even our facilitation toolboxes need refreshing and re-energising, and this might be one way to do that.
It was a good first experience with little risk attached. It gave me a sense of the way PLAYMOBIL®pro. could be used, as well as the possibilities I'm yet to discover.
Read also: First look at Playmobil Pro kit. Find out: what is included in the Playmobil Pro package?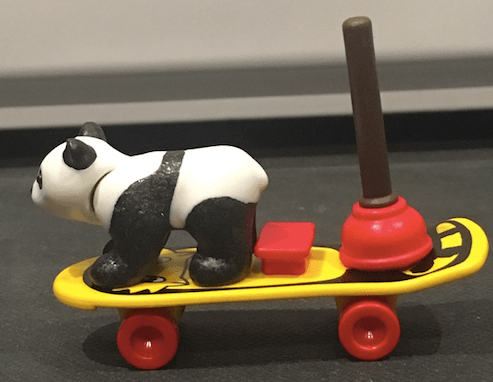 April 17, 2019 in Serious Play Discussion
Editor's Note. When Hans Beck created Playmobil toy business in early 1970ies their focus was different from that of LEGO. LEGO was focused on building, Playmobil was about plastic fairy-tale figurines. Pirates, knights, historic figures. Over the years, LEGO has introduced minifigures and Playmobil has introduced bricks. Thereby, two companies have grown more alike and have started to compete.
Recently Playmobil released Playmobil Pro, which bears much resemblance to LEGO Serious Play. Guy Stephens tested the kit and explains the differences below. You may also read about his first Playmobil Pro practice session at IBM.
Comment below to ask Guy questions about his experience. -Marko Rillo
---
I finally received my PLAYMOBIL pro kit today; many thanks #playmobilpro for letting me take part in your testing.
As I opened the box, I was that child again, transported back in time to my childhood days; the excitement of opening the box and taking the kit out.
I love the fact that the PLAYMOBIL pro kit felt like a kit. It wasn't just some PLAYMOBIL pieces in a box. The carry case was just as important as the pieces themselves. The creators had thought about it.
Seeing and touching familiar pieces; like meeting an old friend. Seeing familiar pieces updated, and new pieces imagined. There was a real sense of discovery. Familiar, but at the same time unexpected. It was great fun going through each box; seeing what was included and chosen, was just as much fun as trying to understand why those pieces had been chosen and not others. There was a randomness about it, that I found a little bit unsettling. Unsettling in the sense that the reliance on me to decide how to use the kit was my decision and mine alone.
Where LEGO SERIOUS PLAY (LSP) is structured, in the sense that there is an underlying methodology and approach to it, there are seven applications and a set of four distinct stages to how you approach a challenge, PLAYMOBIL pro is still very much an idea come to life. An idea still forming. An idea that at this stage has literally no boundaries. And so the onus is far more on me to bring the myriad of pieces to life. My limitation is my imagination and my creativity. And that excites me. In some ways, I'm also wondering: can I live up to it? Do I have the imagination and creativity to bring the pieces to life. A PLAYMOBIL dog is a dog, but what more can it be? Where a blue LEGO brick can literally or metaphorically be anything I want it to be from a blue brick, to democracy, to a chicken, can a PLAYMOBIL dog be anything other than a dog?
So the kit comes with four 'trays' labelled: Stationery, Props, Costumes and Characters. Each one is like a treasure chest. You can spend time just going through each compartment, getting to know the pieces. Okay, I did, you might not! I like the fact that there was a Stationery box with pens, post-it notes (you got to have post-it notes, right!?), coloured masking tape. I'd probably replace the post-it notes, with my favoured ones from Myndflo; if you don't know them, check them out. They use electrostatic to stick.
There were also two packs of 'cards'. Think of them as 'prompt' or 'inspiration' cards. One with happy and unhappy faces on it, with each one representing a different state of being ie. unhappy face – Confused, disoriented, unclear and on the flipside a happy face – Clear, transparent, expected. The other a pack of cards with random words and concepts on them, representing customer touchpoints. This could be anything from smartphone to self-service, ambience-smell to logo, Chat/IM to myths.
My favourite pieces so far: skateboard, bicycles and microscope.
My favourite random pieces have to be the toilet plunger and the bearskin hat.
The animals as a whole are great, with standout ones being the badger, hamster, and raccoon. Scale is a bit up and down, but this is all about a suspension of disbelief right. It would be great to have some animals like a tiger, lion, elephant (elephant in the room). There's even a panda and an octopus.
The Costume box must also house one of the finest sets of PLAYMOBIL headwear and musical instruments. But there is a rather disconcerting eye.
So, what next? Well the idea is to now run some workshops. I'm looking forward to seeing where we can take this.
How does it work alongside other methodologies like LEGO SERIOUS PLAY and Design Thinking?
Can you use it with a Business Model Canvases?
Could you run a social media crisis workshop using it?
Could you use it to align a team undergoing change?
Could you use it to help a customer service department define what roles are needed to create a social customer care team?
Could you use it to understand how to improve a customer experience or define different personas?
I guess it's down to my creativity and imagination!
Read also about the first Playmobil Pro practice session at IBM.