May 24, 2016 in Serious Play Discussion
Greetings, I would like to introduce myself to the SeriousplayPro community by way of this first blog post. I have been invited by the editors to lead the discussion on the use of LEGO® SERIOS PLAY® methods as a tool to help build inclusive communities.
As a part time consultant and in my full time role as the Senior Leader of Research and Social Innovation at a large Canadian NGO, I'm interested in how to help organizations problem solve better and navigate complexity. I've been exploring over the last couple years how LEGO® SERIOUS PLAY® can help with making sense of complex issues in public engagement experiences.
Lately I've been experimenting with how "thinking through your hands" and Human Centered Design Thinking can open up new conversations, new creative solutions and strengthen community.
In the short video below you'll see a glimpse into how we used LEGO® SERIOUS PLAY® to explore with a diverse collective what makes a city vibrant, inclusive and a city to love. For this session we brought together young leaders, City Lab staff, provincial government representatives, University of Alberta anthropology students and other community members to look at what makes an inclusive community.  The video speaks for itself and since that time we have been refining the questions and approach to make a public engagement experience more inclusive of diverse communication styles and to go beyond just talking around tables.
https://vimeo.com/130899815
I would love to hear what you are doing with LSP in your work.  Please share your ideas of ways to make communities more inclusive.
Ben Weinlick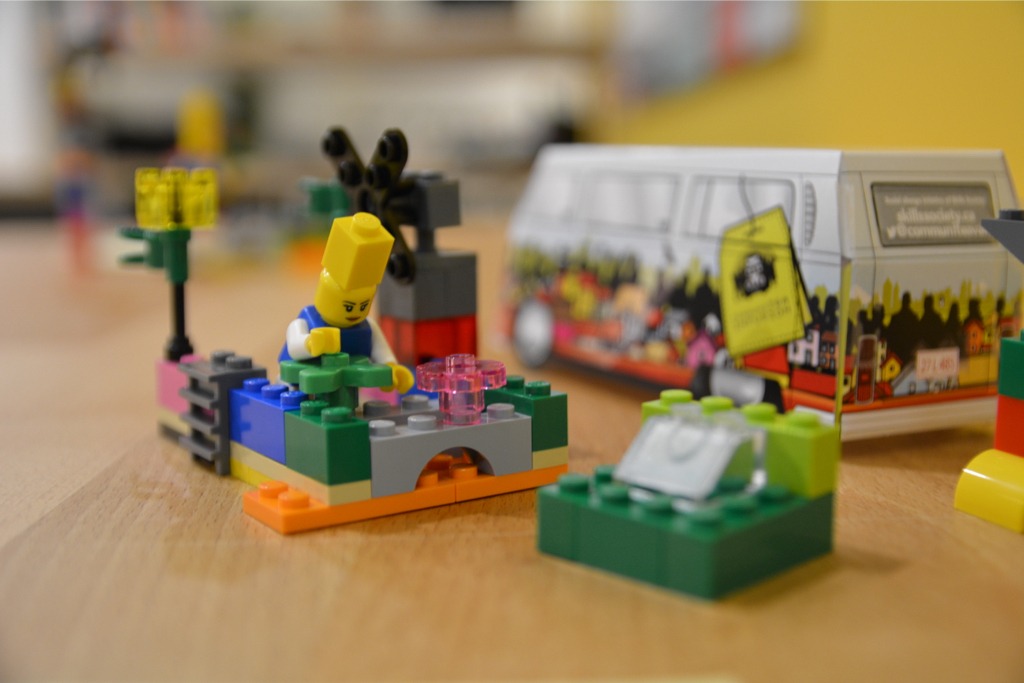 November 3, 2015 in Serious Play Case Studies
October 2nd 2015 was a game changer of a day when we hosted a diverse collective in our Action Lab around what helps to build and strengthen vibrant, inclusive communities. We were grateful that the day was initially sparked when our allies at Deloitte asked how they might collaborate with Skills Society and make an impact on Deloitte's international day of giving called Impact Day.  In thinking about what could make waves in community we thought that a great way to give back would be for Deloitte and others to come together, share stories and practical ways to support community.
For Impact Day we saw all of our Skills Society values come to life, but in particular our core values around seeking creative collaborations and embracing complexity to move our work forward were key themes of the day. We have recognized for years that when we collaborate with groups and people outside our familiar silos, new thinking and fresh ways of approaching challenges emerge. What made the day truly unique and added to the quality of discussion was the diversity of the collective of 45 citizen explorers in the Action Lab. We brought together citizens with disabilities, Deloitte leaders, University of Alberta leaders, Alberta Social Innovation Connect (ABSI),  Skills Society allies and support workers, and leaders from End Poverty Yeg.
So what happened on Impact Day?
1. We shared what our core values look like in action
In the morning Skills Society Executive Director Pat Conrad welcomed everyone and then our Senior Leader of Social Innovation Ben Weinlick shared what our 5 core values at Skills look like in action through our front line work and many social change initiatives.
Our Core Values

Supporting Engaged Citizenship – Safeguarding Healthy Relationships – Seeking Creative Collaborations – Building and Sharing Knowledge – Embracing Complexity
A highlight was when Emily and Randi exemplified our value of supporting engaged citizenship through sharing their experience coordinating our CommuniTEA Infusion project this past year.  We were excited to hear how CommuniTEA Infusion employed many citizens with disabilities as community builders this past spring and summer and reached more neighbourhoods than ever before. Check out the video below that Telus made about Emily and her work with the Tea van.
2. We used visual explorer cards to get to know each other
Visual explorer is a set of random pictures that helps everyone share stories and creative ideas. What's great about Visual Explorer is its inclusiveness of everyones' abilities and helps people to share rich concepts visually.
We asked participants to grab a picture that spoke to them about what helps strengthen community
Here's what emerged
Have Fun in Community
Connect with people
Work together in a garden
Try new things and get out there!
Help people share their gifts and strengths
Do what you love
Go outside and embrace winter in our city
Build stuff together in community and meet people that way
Support youth in community
Connect with diverse people and learn from other cultures
Respect elders and learn from them
When we build networks we can do amazing things
Take care of the environment
Go out and explore your community more
If animals can get along then we can too!
3. We used LEGO® SERIOUS PLAY® methods to explore notions of engaged citizenship and what strengthens vibrant communities
It may sound like something to do with child's play when you hear the name, but there is  quite a bit more to LEGO® SERIOUS PLAY® as a method to explore complex issues.  Our own Ben Weinlick is one of the few certified facilitators in western Canada in LEGO® SERIOUS PLAY® methods and for our Impact Day Ben acted as co-pilot in our lego explorations. Businesses, government, banks and causes for social good like the Clinton Foundation use LEGO® SERIOUS PLAY® methods to help people problem solve, plan, and ideate. Using the method is not about building perfect lego structures, it's about the impactful stories and ideas that the lego and questions helps to foster.
During our lego explorations we built models of challenges that people with disabilities and marginalized groups face in community, we made models of how Good and Bad Citizens act, and we built models of how to help people feel welcome and know they belong in community.
The experience helped participants empathize, share stories, build knowledge and create solutions  around how to support marginalized people and groups to be welcomed and valued as important citizens in our communities. Often we find that the journey in and of itself is the goal of these Lego Serious Play explorations. We can't solve complex social issues in a one day workshop, but if people walk away with a new perspective to apply when relating to people in community, empathy for others and some practical ideas to try out then that is a win and can have a ripple effect.
h"I was struck by the way the lego exploration helped a diverse group to collaborate and problem solve tricky issues together. It was like a mini model of healthy civic engagement the way it should be.  I want to remember that and do more of that in my work and community."
"When are you going to do another one of these, this was really good"
"The day, the atmosphere, and the methods we used made it so that you didn't need to have a pre-existing awareness or knowledge of how to help and support marginalized people. Together, we kinda figured out decent courses of action and strategies to make healthy communities."
" I felt heard and had fun!"
"I liked building the models and sharing ideas, I think people learned that someone with a disability is just like anyone else and wants to belong" 
More pics in the gallery at the bottom of the page.